We are closed now on Tuesdays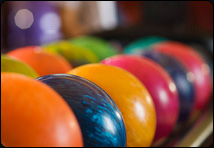 Summer Leagues Forming Now
Sign up in Lobby

Friday Evenings 5pm to Close
Half Price Bowling That's 50% off Bowling & Shoes at checkout

Saturday Special $2.75 per game per person
12 noon to close
Light & sound show 9:30pm to close

Sunday Open to 5pm $2.75 per game per person

Lets Go Bowling!
Milford Bowling Lanes
Manager: Jeff Fry
32 Lanes
Qubica AMF Scoring
Meeting/Conference Room
Pro Shop
Snack Bar
Full Service Lounge
Video Game Room
Our Testimonials
What people say about us?
My son had a Great Birthday Party, Thanks to the folks at Milford Bowling Lanes!
Ron White
We had a great time bowling at the Milford Bowling Lanes. It was a rainy Saturday and bowling at the Milford Lanes gave everyone a pick-me-up, IT WAS GREAT!!!
Sarah Johnson